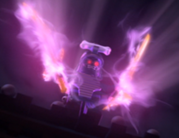 Lord Garmadon was one of the first members of the dark legacy. He was the leader of the Serpentine, an ancient tribe of Snake-like creatures but then kicked him out. And he controlled the Stone army using the helmet of shadows. He is the main enemy of the five ninjas.
He is son of the first spinjitzu master.
He can do dark spinjtizu.